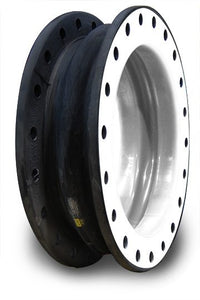 The Proco Series 251/BT Lined Expansion Joints are designed for tough, demanding, corrosive chemical applications such as chemical and petrochemical process facilities and highly corrosive industrial piping and pollution control systems. Use of the 251/BT expansion joints is especially prevalent in the paper industry, where their ability to resist corrosive attack at elevated temperature and pressure is unrivaled by other competitive metal or plastic expansion joints.
Series 251/BT expansion joints are chemically resistant against the entire pH range, and can easily handle tough pulp/paper applications including:
White-green-black liquor
Beach plant chlorination
Caustic extraction stages
The new 251/BT will replace the Proco Series FFP lined rubber expansion joint. This new, improved product has been completely re-engineered to provide even more strength, flexibility and movement capabilities. Manufactured using tire cord industry technology, the Series 251/BT combines woven polyester tie cord into a fabric matrix, which is then bonded with a Chlorobutyl elastomer that is reinforced with wire and bonded to a PTFE liner. This combination creates a product with an increased operating performance.
Some notable features of the Proco Series 251/BT include:
Greater movements with a lower/wider arch profile
Chemical service capability at minimal cost
Absorption of pipe movements and stress
Reduction of system noise
Isolation of mechanical vibrations
Compensation for alignment/offset
Elimination of electrolytic action and electrolysis
Protection against start up and surge forces
For more information click here. 

Email us for pricing  olearyco@waoleary.com




}