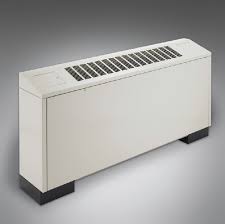 Rittling Cabinet Unit Heaters offer the latest in attractive design and are engineered to provide years of reliable operation and energy-efficient comfort. All Rittling Cabinet Unit Heaters run quietly and feature individual controls. Our Cabinet Unit Heaters are available in a wide range of models and air flow arrangements to satisfy the demands of your heating specifications.
All Rittling Cabinet Unit Heaters have the same height and the same depth per model. Only the length varies for different size units to provide a consistent, attractive appearance when an installation calls for units of various lengths. Our units are available in floor, wall and ceiling-mounted models. The user is given finger-tip control over fan speed and room temperature.
Sturdy, mechanically-bonded copper/aluminum coil with 12 fins per inch and 1/2″ nominal tubes
High capacity coil
Hidden from view, three-speed fan switch allows speed selection for comfort control
Quiet blower assembly made with galvanized steel for strength and durability
Motors are permanent split capacitor with thermal overload protection and permanently lubricated for extended, reliable motor life, low operating cost and quiet operation
Large rough-in area at each end of the unit provides ample room for plumbing and single point connection electric controls
16-gauge front panel protects against impact
Ceiling units include hinged front panel and safety chain(s) for safe and easy maintenance
Blower deck enhances strength and stability, with easy accessibility and removal
Steel blower assemblies with tablock blower blades provide years of reliable service
Four optional leveling legs per unit allow for pitch adjustment and mounting on uneven surfaces (floor unit only)
Filters are easily accessible and can be removed without the use of tools
Attractive ivory epoxy powder coating is standard with additional colors optionally available
Custom, hand-built solutions are part of our everyday life.



For more information click here. 

Email us for pricing  olearyco@waoleary.com




}